Before you tee off, make sure your golf travel insurance is on par.
The golf tourism industry has boomed over the last decade, with a steady upsurge in holiday makers worldwide opting to bring their clubs and squeeze in a quick 9 or 18-holes between poolside margaritas when travelling.
Recent numbers reveal that approximately 56 million people worldwide are enjoying golf as a professional or pastime activity, and golfer's eternal quest for the perfect round takes many tourists to resorts and holiday destinations accommodating their passion. According to IAGTO, International golfing travel has witnessed unprecedented growth with an estimated 1.6 million golf holidays reported in 2012 alone, with an annual growth rate of over 20% for emerging destinations.
And this is just the beginning. The sport now contributes about $20 billion annually, and could potentially attract millions of holiday makers across the world by itself or as a secondary motivator as more countries embrace golf tourism as a key source of foreign exchange. Creativity in relation to new golf courses is at peak levels.
This is all great news. However, even though the golf tourism industry may be fast-rising, there's also risks associated with the relatively new phenomenon, which, if not taken into careful consideration, has the ability to put limitations on its growth.
Before you book your tickets, ensuring you have golf travel insurance in place is vital. Golf travelers need to be aware of risks and manage it effectively.
When you take out travel insurance, you expect to be covered for the three main areas of risk. These are medical and hospital expenses, trip delays and cancellations and loss, theft or damage of luggage and personal belongings.
Without adequate cover, your holiday can end up in disaster. Just consider… with golf clubs ranging into the thousands, it simply wouldn't do to lose your golf gear on a trip away.
But unfortunately, it happens.
After finishing in a tie for 23rd at the U.S. Open in 2014, Rory McIlroy's clubs disappeared somewhere between Newark, N.J., and Dublin, Ireland. If an airline can misplace the golf clubs of the no. 1 player in the world, it can happen to anybody, and you need to be prepared!
For the average golfer, missing golf clubs don't cost thousands of dollars in potential prize money, but such an incident certainly puts a damper on any golf getaway.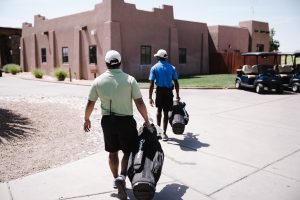 WHAT WE COVER
Using Golf Business Australia's (GBA) travel insurance for your next golf holiday will put your mind at ease so you can spend more time on the green and less time seeing red.
Standard travel insurance is generally a great option but many policies don't cover golfing equipment. At GBA, we have designed a Golf Travel extension specifically with golfing holidays, golf experiences and golfing destinations in mind.
GBA's insurance will cover your golf trips abroad three-fold. Firstly, it protects your trip as a whole against the normal travel insurance concerns; you'll be covered for the cancellation of your trip, the loss of your baggage and a whole host of other benefits.
Golfers will also be protected should they be injured on the golf course abroad. You'll have cover for emergency medical expenses in the event you are injured whilst playing golf. There's also Personal Liability protection should you injure someone else on the golf course.
In short, GBA's Golf extension provides a range of additional golf-specific benefits a general travel insurance wouldn't.
TRAVEL INSURANCE WITH GBA – THE FULL MONTY
While a general travel insurer may seem to offer similar benefits to the cover you need for your particular sport or pastime, it's vital to make sure sufficient cover is also being provided in those three much less exciting, but equally important areas of medical and hospital, lost or stolen luggage and trip cancellation or delay.
We'll cover you for the cost of hiring replacement equipment in the event of your baggage getting misplaced in transit. We've also got you covered for the value of trip cancellation, unused green fees due to accidental injury or illness preventing you from playing golf.
The nitty-gritty
Your golf equipment is insured against loss, theft or damage up to the benefit limit. We will either replace the equipment with a similar item, pay to repair the item or pay you a sum of money for the item.
If the golf equipment was lost, stolen or damaged due to the airline or carrier it was travelling on, then you must make a claim to the airline before claiming on your GBA golf travel insurance. If the amount the carrier reimburses you is less than the full amount of your claim, then we will pay the difference up to the benefit limit, after factoring in depreciation due to age and wear and tear.
GBA Golf travel insurance also covers the costs associated with hiring additional golf equipment due to your own being lost, stolen, damaged or delayed for more than 24 hours.
Trip Cancellation Coverage reimburses you for pre-paid, non-refundable expenses if you need to cancel your trip before you depart.
Trip Interruption Coverage is similar to cancellation coverage, but covers you while you are on your trip due to sickness, injury, or death of you, a family member, or a traveling companion. We also cover you if weather damages your destination or cancels your flight
CONTACT US TODAY
Whether you are looking for golf travel insurance for your holiday, golf insurance for your golf equipment, insurance cover for your buggy or that all-important on course third party liability protection, GBA has got you covered!
Feel free to call The Golf Insurance Guy Daniel Bateup any time on 1300 852 025 or fill out the form on our website and we'll be in touch to start your journey soon.
BOOK YOUR TRIP
LuxGolf is Australia's first luxury golf touring company specializing in providing you unprecedented access tot he most exclusive, prestigious and private, Member-Only golf clubs in Australia, New Zealand and Hawaii.
Looking to stay and play on the Gold Coast or Sunshine Coast?
golfOZ is Australia's most innovative and creative golfing tour operation in the country, with over 21 years experience in the golfing and tourism marketing area. You are assured of a trouble free, fun packed golfing holiday experience when booking with the friendly staff at golfOZ.
Or anywhere Australia?
If you're looking for the ultimate golfing holiday, playing some of the best courses in Australia, Paradise Golf Tours has got you covered. To find out more, simply tell them a little of what you're looking for, and they'll get to work straight away on preparing a quote just for you (yes, each and every one is custom prepared).